Joined

Dec 18, 2018
Messages

152
Location
Info-share - for those planning future leaf spring maintenance tasks......
For my 2 heavy weight leaf spring trailers, I replaced their factory leaf spring
dry bolt with white plastic bushing
with new technology "wet bolt" and brass bushings. Before installing the new parts, I also hand smeared marine grade wheel bearing grease on all moving / contact parts as well. Then, loaded them up using their grease zerks. So far, so good.... And when I clean / adjust their electric brakes every spring, I now simply inject some more grease using their grease zerks.
FYI - for those who also want moving leaf spring suspension parts to last a long time (before replacing them)....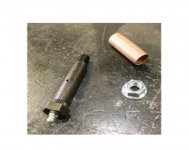 Last edited:



Joined

Mar 13, 2004
Messages

3,914
Age

47
Location
yes they do last longer if you grease them every time you use the trailer. most people do not and are pissed off when they last 1/2 as long as the plastic ones at 2 x the price. i work on those all the time and see it a lot. why mine are the plastic ones as i am lazy and get about 5 years on a set of bushings.
Joined

Dec 18, 2018
Messages

152
Location
Grease every time one uses the trailer???? Sounds over kill to me...

As per single google search.... "All wet bolts and equalizers should be greased every 3,000 miles".
Last edited:



Joined

Mar 13, 2004
Messages

3,914
Age

47
Location
and at max weight that is not enough lube in my experiance, especially for the one at the top of the equalizer.