Joined

Apr 19, 2009
Messages

40
Age

46
Location
Recently picked up a '01 srx because I've always wanted one. Won't be my main trail sled, but more of a fun sled. I really wanna be able to take out some of the new iron out on the lake. I know sled has the topend to do it, but think it'll lack holeshot...especially if there is any snow on the lake.
Somebody swapped a new looking Camoplast 9753t touring track on sled. What I like about it is that it has full width paddle design on every bar. Track is listed as 1" but as I measure it lugs are a little shorter. Anyways I want studding recommendations. I've be thinking about using Stud Boy pro lite double backers with 96 studs in center then another 48 studs sprinkled in with single aluminum backers. Thinking with my lug design and the scoop design of pro lite backers it might actually launch in loose snow pretty good? Thoughts? Was gonna run 1.175" studs, but since lugs are coming in a hair under 1", 1.075" woodys gold diggers might be a safer bet.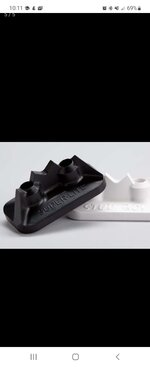 Joined

Oct 8, 2006
Messages

325
Location
I wish you luck. You are exactly right about the top end. You can surprise a lot of modern sleds on hardpack. Unfortunately you are also right with your holeshot concerns. On anything but extremely tight hardpack the new taller tracks really have an advantage. I am sure you are aware that one inch height with studs or 1 1/4" with no studs is the max without going to a smaller driver. Then you start to loose the speed advantage. I have no personal experience with the combination that you are trying.



Joined

Oct 19, 2015
Messages

1,552
Age

48
Location
I use to run 1.175 in my XTC with stock track.
With that, had to make sure track wasnt too loose, or they would get into front heat exchanger a bit.

Joined

Apr 19, 2009
Messages

40
Age

46
Location
Thanks for the replies. Yes I'm aware 1" track is tallest lug I can go with studs. Lots of debate over 1.175" studs, a lot of guys say they run them and are fine others say even those are a tight fit. Honestly with particular track on this sled currently it looks like a 1.075" will have decent penetration.

My buddy ran those pro lite backers on a G4 850 Doo last season. They worked real well, although it had a 1.5" track so hard to say how much of that was those backers.

It's a bummer Yamaha didn't design srx to accommodate studs better. They had to know a large percentage of buyers would be studding them! Although maybe that why it was spec'd with a .910", so 1" studs would work well.



Joined

Oct 19, 2015
Messages

1,552
Age

48
Location
I think you would be fine with the 1.175